The Consulting Arts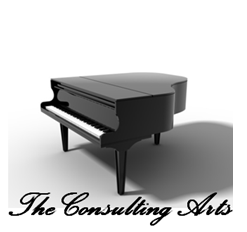 The Consulting Arts spawns environments that are catalysts for creativity, focusing on piano, voice, creativity coaching, art and writing. Karen Smith-Will teaches students of all ages and with various learning styles, disabilities, and health concerns. Typically her students' ages range from 5-100, and accommodations can be made for exceptional students.
Twitter @ConsultingArts

Facebook The Consulting Arts
Details

Written by

Karen Smith-Will

Category: The Consulting Arts
Singing's for the Birds is a music program Karen designed in 2013 to teach vocal intervals through the use of birdsong. This innovative program pairs music with ornithology (bird science) in an engaging way dozens of students have enjoyed. Besides highlighting all-new, original scores, the program demonstrates how phrases from birdsong appear in classical and popular music. Karen teaches this program in the Richmond, Virginia area; students receive a copy of the curriculum, published under the Valutivity Press imprint in 2014. Some ornithology curricula included in the program comes via Cornell University's Cornell Lab of Ornithology. Karen's role as Bird Sleuth Ambassador allows students to receive materials from Cornell Lab for no additional charge.