"A Guide to Process Management: Small Biz Edition," was the topic of Karen Smith-Will's presentation to the Richmond, Virginia, chapter of SCORE on September 15, 2011. For more details, please see this press release. Thank you to SCORE Counselor Fred Esposito for the invitation to work with an outstanding group of retired executives helping small business owners. If you are starting a small business, consider contacting SCORE today for complimentary business coaching (see link below).
Other resources:
Visit http://www.richmondscore.org/ for more information about SCORE.
Keywords: process management, consulting, nonprofit, servant leadership, change management, stewardship, six sigma, lean, agile

Valutivity LLC recently received this testimonial from client Tina Langley. As a Forwarding Agent and a Board Member for Mid India Christian Mission (MICM), Tina provides leadership through bookkeeping and communications delivery, entirely on a volunteer basis. MICM supports educational and health needs of children in in Damoh, India. Through the use of business process management and Lean principles, MICM has shaved off more than 85% of the time required to complete this role--from a hefty 120 hours of volunteer time required per month, to a slim 16 hours per month. According to GlassDoor.com, the median salary for a bookkeeper in Richmond, Virginia, is $55,500, or $26.68 per hour. At those rates, MICM has experienced a labor savings valued at over $33,000 annually. Talk about a significant benefit to a nonprofit seeking to invest all of its precious resources on needy children!
Read more: International Nonprofit Shaves >85% from Process Time through Lean
For more details, please take a look at this press release. Thank you to Richmond VSCPA's Vice President Robin Ransom for the invitation to work with an outstanding group of accounting professionals and nonprofits.
Other resources:
Richmond VSCPA 2011 Nonprofit Conference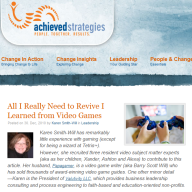 Achieved Strategies invited Karen back for another blog, this time in their Journey in 2011, Revive and Thrive series. "All I Really Need to Revive" shows how to revive your game plan using tips from the gaming industry. While you're at it, don't miss all the other articles from all of the savvy leadership writers in this series:
Read more: All I Really Need to Revive I Learned from Video Games
"Seeds of faith are always within us; sometimes it takes a crisis to nourish and encourage their growth." Susan L. Taylor

Acting like a Leader: Responding to the Crisis
Doug: After that was all over and I got back home, then I volunteered for submarine duty and they sent me to San Diego. Lena Mae was already on her way away from Hawaii. They wouldn't let us change our abode because war had already broke out. And all I could say was meet me at the YMCA in San Francisco. I couldn't tell her when, where, or what not, because I couldn't tell her on the radio where we would dock or when.
So we met in San Francisco, and they sent me to San Diego to catch the S-27, which was an old type submarine. As soon as I got on her, we went to the Aleutian Islands. And from the Aleutian Islands…
Lena Mae: "Well, let's go back to Pearl Harbor. When he went to do his duty station, the girl next door and I, we didn't know what to do.
Read more: Greatness Thrust Upon Him: Leadership at Pearl Harbor, Part II
"Be not afraid of greatness: some are born great, some achieve greatness and some have greatness thrust upon them."
- William Shakespeare, Twelfth Night, Act II, Scene V).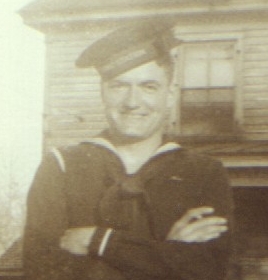 Uncle Doug Eaker is a quiet man--salty at times, introspective at others and with a twinkle in his eye. Like most people, he has many stories. On today, the anniversary of Pearl Harbor, I offer his story of leadership thrust upon him at age 23. He shared this with me a decade ago, on September 30, 2000, at our annual family reunion. The story will be told in several parts, including his perspective, his wife, Lena Mae's perspective, and that of his sister-in-law. Finally, there were will some statistics, for those die-hard history buffs. History serves as an important library of resources for the study of leadership.
Read more: Greatness Thrust Upon Him: Leadership at Pearl Harbor, Part I