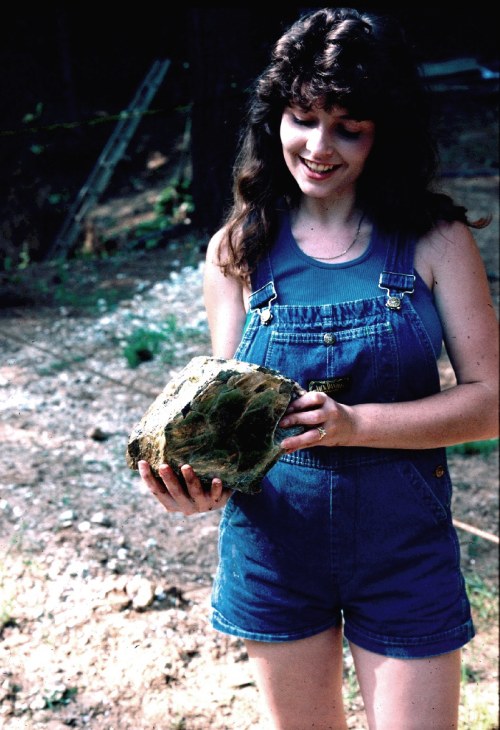 Joan is mentioned, with respect to her life at Morefield mine, a number of times in the story of her deceased husband,
Warren "Bill" Diehl Baltzley
. On
May 19, 2017 Joan's daughter Erika graciously gave me permission to use any photos and information I have from them in this book.
Joan Elizabeth Dameron Baltzley was born in 1963, a native of Lancaster County, Virginia. She attended Virginia Commonwealth University in Richmond, Virginia, then moved to Amelia, where "she worked in the jewelry/gem business and was an owner of the Morefield mine (In Memory, 2010).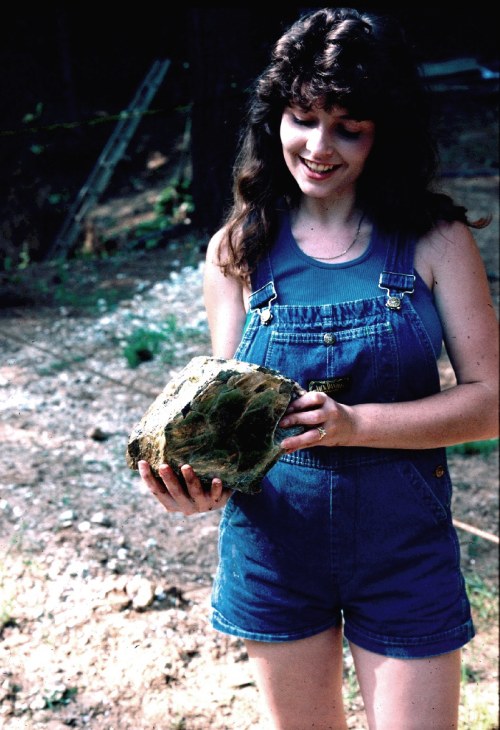 D'Orso (1988) indicated that Joan met Warren "Bill" Baltzley when visiting the mine as a VCU student three years before, which would have been about 1985. She married him "last year," which would have been in 1987. As of 1988, Joan was working "at the county administrator's office," because "[s]omeone has to pay the mortgage" (p. B3). In 1989, she, along with Warren Diehl Baltzley, signed the lease allowing Martin Marietta to mine the majority of their acreage (State 1989).
This 1980s photo, from Betsy Martin, shows Joan holding a hefty book of mica.
By 1990, Joan Baltzley was a goldsmith, active in the retail side of Morefield mine, setting gemstones into various types of jewelry. She indicated that the rock shop portion of the business remained busy in the summer, even when fewer rock hounds were outdoors panning for gems (Chapman 1990).
In March 1996, Bill and Joan sold the mine to Sam and Sharon Dunaway.
Joan subsequently married Bill's son by his first wife, Eric Baltzley. Sadly, Joan
died young; the following is her obituary:
"Obituary for Joan Dameron Baltzley, 1963-2010 Joan
Elizabeth Dameron Baltzley, 46, of Banner Elk, N. C. died on May 12, 2010. She was the Beloved Wife of Eric Baltzley; Beloved Mother of Erika Dameron Baltzley; Beloved Daughter of Frances Franklin Dameron; Beloved Sister of Susan Lynn Dameron and Mark Franklin Dameron; predeceased by her Beloved Father, E. Ralph Dameron, Jr. Joan is also survived by sister-in-law Maida Dameron, White Stone, VA; niece Catherine May and husband Jon, Tamarac, FL; nephew Bryant Dameron, Richmond, VA. At the time of her passing, Joan owned and operated Baltzley's Fine Jewelry in Banner Elk, North Carolina, with her husband. Joan and Eric worked together to establish and build a successful business which they both loved and enjoyed. In addition to ready-made jewelry, they sold gems, designed jewelry, and made custom jewelry. One of Joan's primary business hallmarks was customer satisfaction. Joan was a native of Lancaster County, VA. Growing up on Antipoison Creek in White Stone, she enjoyed crabbing from three family docks as well as other water-related activities. As a young child she was particularly fond of cats, dressing the most tolerant in doll clothes. As a young teenager she moved with her family to Monaskon. Joan attended Virginia Commonwealth University, Richmond, VA, and subsequently moved to Amelia, VA, where she worked in the jewelry/gem business and was an owner of Morefield Mine. A resident of the mountains of North Carolina for 15 years, she relished mountain living. Her family here in the Northern Neck looked forward with great anticipation to her visits. Joan enjoyed being reunited with the area's nature and waterways. She and her family frequently visited Belle Isle State Park for hiking and boating. Her family enjoyed many fun excursions with her. Joan was predeceased by her grandparents, Elton R. Dameron, Sr. & Louise Bryant Dameron, and George E. Franklin, Sr. & Thelma Barnes Franklin. Joan will always be remembered by her family for her gentle, loving soul and her great sense of fun. She was very vibrant and full of life, but at the same time as soft and gentle as an angel. She passed through our lives much too quickly and will be missed forever. A memorial service will be held on Sunday, July 11, at 2:00 p.m. at Corrottoman Baptist Church, Ottoman. Memorial contributions may be made to the American Cancer Society.
Source:
Bibliography
©️2021 to present
Valutivity Press. All rights reserved.