Details

Written by

Karen Smith-Will

Category: Main
As we end the month of August, I'm talking tomatoes.
Hanover County, Virginia, home of the Hanover Tomatoes, is where I have lived for years. It's also the county where Valutivity LLC is chartered.
You probably see where I'm going with this. Leaders are a little like tomatoes: we're not all "ripe" at one given time. But we are constantly striving to get closer to that ready stage at each point in our lives.
Details

Written by

Karen Smith-Will

Category: Main
Valutivity LLC president and Lubbock Christian University student Karen Smith-Will's research efforts were highlighted in a Abilene Christian University press release on July 27, 2010. In partnership with Dr. Kathryn Crockett, Karen made an offer to attend Abilene's 2010 Leadership Summit as its research analyst. While data had been collected in a limited way in previous conferences, this was the first Summit that utilitzed pre- and post-summit surveys, a target audience of both attending students plus leaders and a collaboration with Lubbock Christian University. Karen utilitzed the Qualtrics™ Research Suite, in addition to other resources, to collect and analyze the data. A presentation was delivered at the Organizational Behavior Training Conference in June 2010.
Further details about the research are located in this Valutivity article.
Details

Written by

Karen Smith-Will

Category: Main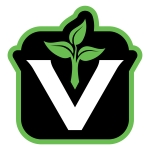 If you have been hearing about servant leadership for a while but still don't feel like you have grasped the full concept, this list can help you get started. These resources can help leaders decide whether to take the proverbial road less traveled: that oxymoronic journey to become a servant.
Articles: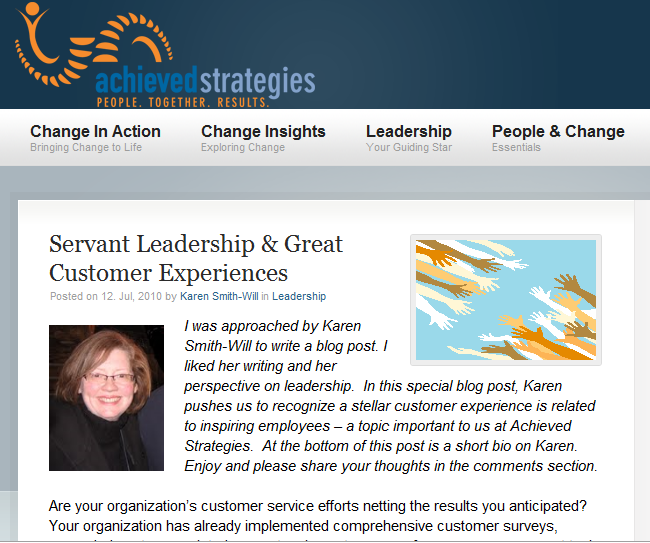 Servant Leadership: the Best-Kept Secret behind Successful Customer Experiences, by Karen Smith-Will - People sometimes still refer to dated models referring to organizations as providing products or services. But don't be confused: every organization is a service organization. I wrote this guest-blog for AchievedStrategies.com to describe how the servant leadership model can better align your organization to deliver quality services your customers deserve.
Details

Written by

Karen Smith-Will

Category: Main

Networking has been a fabulous asset during the past few months since I left a Fortune 200 company. As friends had predicted, many people are inherently wired with a "help" gene and will liberally offer up business leads, ideas, suggestions, or names of other contacts. The more transparent I am with my needs, the more likely people can--and often will--help. Some of my networking friends are competitors, and that's great. As long as we are straight up, we can both learn together and collaborate to improve our consulting field--a win-win proposition.