I arrived to Narita International Airport after a breezy twelve hour long flight.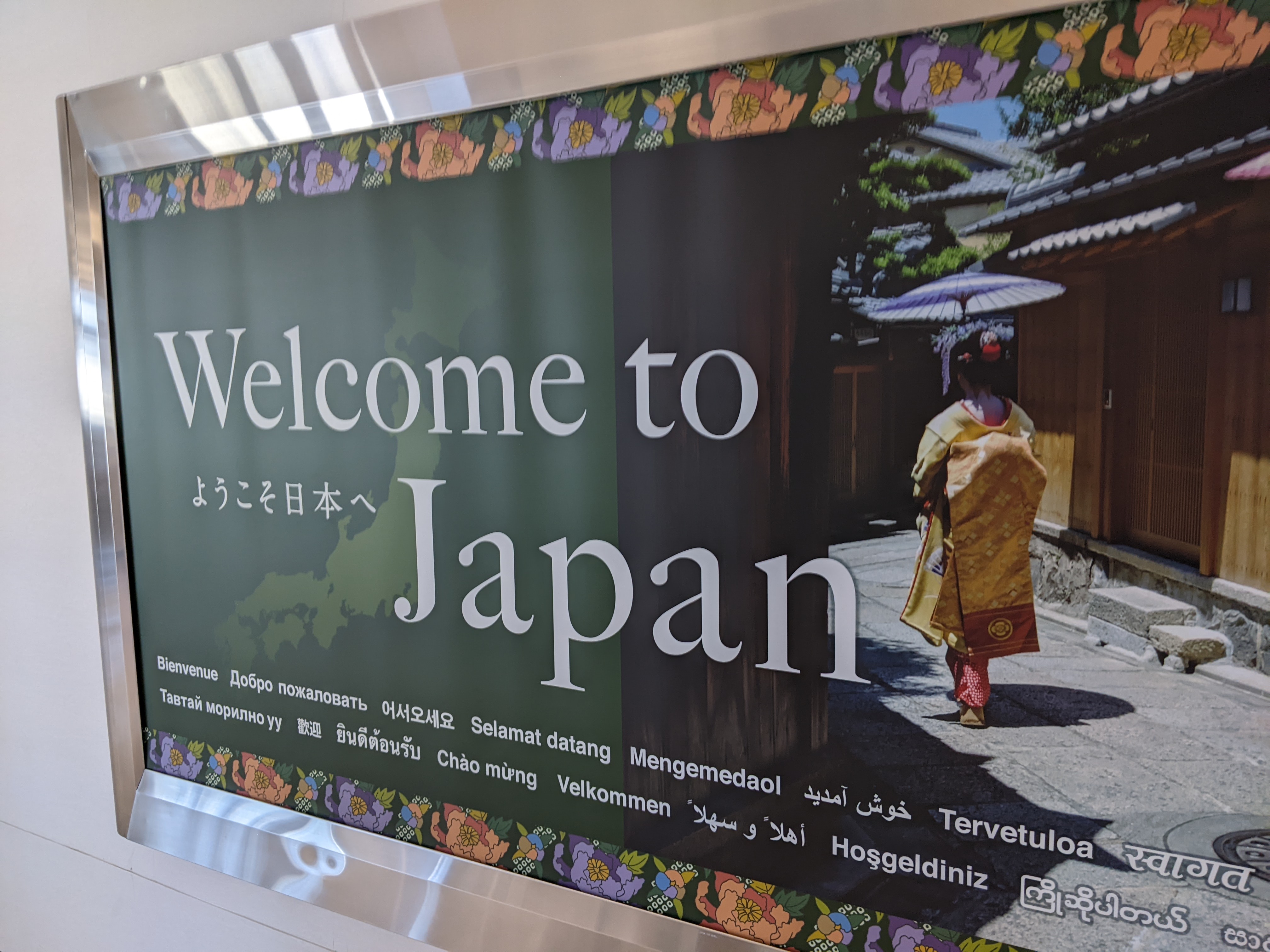 NRT ended up being the most complicated airport during my trip to arrive at Kansai Gaidai, since it's where I had to verify my visa, confirm that I was Covid free, and transition from international flights to a domestic flight.
I had to go through baggage check-in and security a second time, which meant I had to get help from staff several times. Thankfully, the staff were super helpful in making sure I could navigate the airport. Those interactions assuaged some of my worries about the language barrier. I know that it will take some time for me to properly communicate and converse with people who primarily speak Japanese, the basis I have is enough for simple interactions. After making it to my gate, I met a few other students headed to Kansai Gaidai - one of them introduced me to a capsule hotel where I could stay overnight for our bus to pick us up the next day.
At the Kansai International Airport, I had a few hours to spend before our bus was scheduled to arrive.
As I was walking around with the other Kansai Gaidai students, I noticed several interesting things that distinguished the Japanese airport from the American ones I had seen previously. Notably, there was a large presence of advertising from Nintendo, likely because the new Nintendo World in Osaka opened up just last year. There was a Nintendo Switch display with several games (which had been closed by COVID-19), and the elevators had Nintendo characters on them. Characters in general are very popular here, and I saw the airport's unique mascot several times while walking around. In addition, there were several vending machines and gacha machines in the airport, far more than you'd expect to see in American ones. There was a room full of about 15 vending machines, and around 100 gachas in the middle of the terminal. A gacha machine is essentially a lottery toy machine, where you input a certain amount of coins to get a random themed toy from it. It helps play into the mascot culture in Japan, with cute characters from anime and video games appearing as well. I couldn't help but try my luck. It was a really interesting environment to get my first taste of Japanese culture in person.
______
Published: 7/31/22
Key
words
: Ashton Leigh Will visual artist graphic designer The Consulting Arts manga digital art comics comic book illustrator anime oil pencil charcoal Randolph-Macon College Ashland Virginia VA Kansai-Gaidai University Osaka Japan Kyoto Okinawa Gilman Scholarship Valutivity LLC