Vacationing-while-having-HATS (Hereditary alpha Tryptasemia syndrome) is not for the faint of heart. The pitfalls can cause a challenge both during the vacation and beyond. It might even tempt one to never leave home.
Perfect strangers have been roped into helping me through dysautonomia in an airport, getting me settled after a fall, helping us get to a hospital in a foreign country for an allergic reaction, etc.
However, I love to travel—so thankfully, we've picked up a tip or 20 through the years.
Here's a packing list for us HAT-ites, summarized from all the sections below: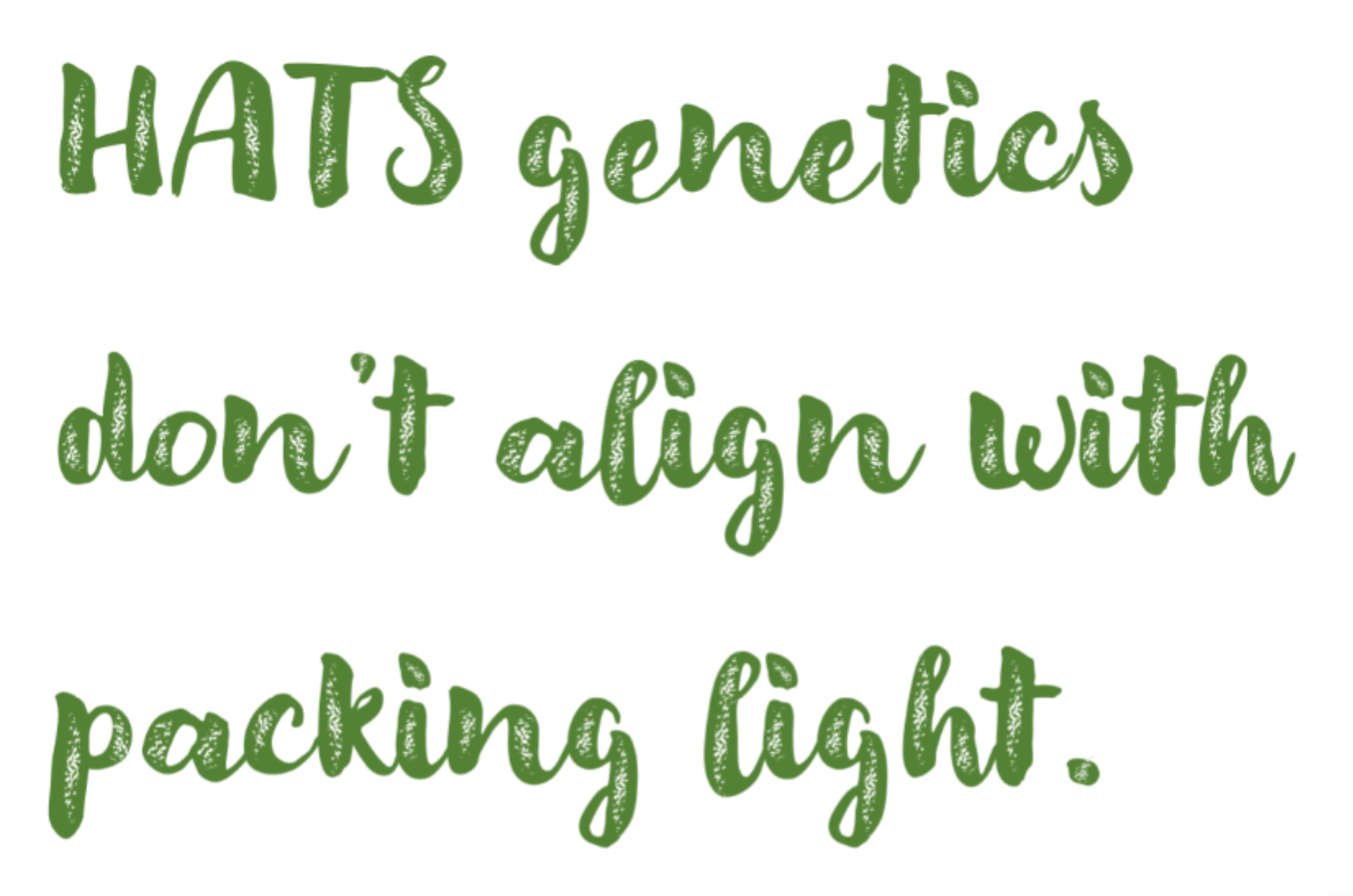 Afrin™️, Aloe, anaphylaxis instructions for HATS, anti-spasmodic, Benadryl™️, bug spray, Burt's Bees After Sun Soother™️, directions to the closest hospital, Epi-Pen™️, guaifenesin, handicapped placard, hydrocortisone cream, ice roller, motion sickness meds, ondansetron, plantain leaves, proper walking shoes, protective sun clothing, Sea-Bands™️, bottled water
Diarrhea
For those of us with increased numbers of mast cells in our small intestines, a painful and sudden flushing of the system, which one of my docs calls "abdominal migraine," is common. This is hard enough to manage from home or work--but adding in the unpredictability of vacations is scary. So, I make sure some things are predictable—like bringing the types of breakfast I normally have at home along on the trip, and taking my anti-spasmodic at the 1st inkling of pain. Also, risk being rude if you have to run. It comes with the territory.
My doctors helped me order a handicapped placard, so I can park quickly and get to the restroom. During covid, many companies have closed their restrooms to patrons; I limit my travel to the places where I know in advance I have access to them.
Exhaustion
One of the wisest things we started doing during Disney vacations is afternoon naps. Given how much one pays for Disney tickets, this seems counterintuitive. But extremely warm (or extremely cold) areas enervate us—sap all of our energy. Overdoing it can prevent enjoyment on future days.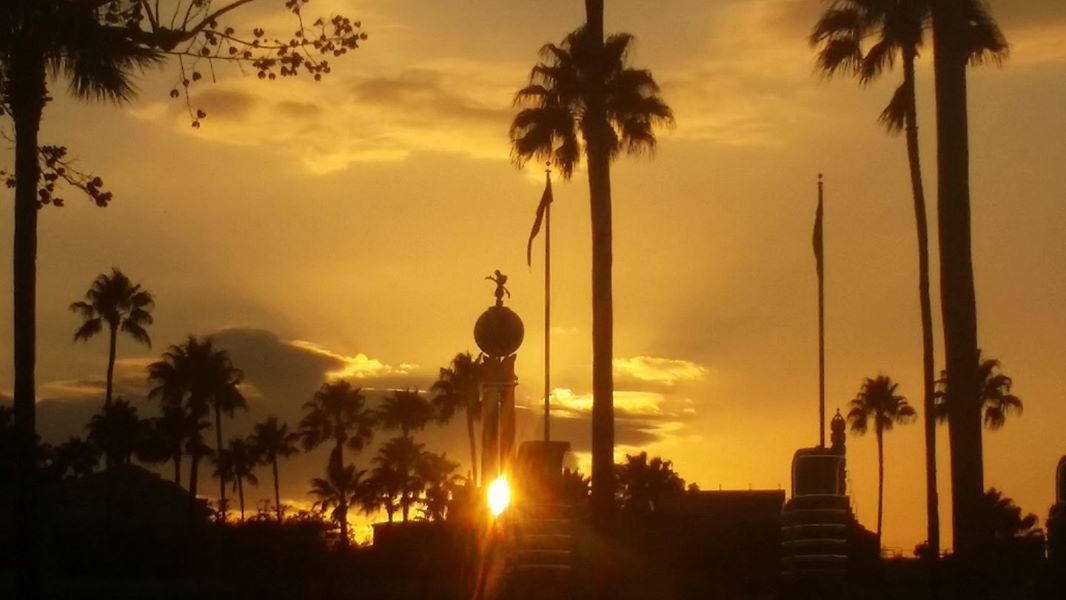 If we can't get a mid-day break, we alternate: busy day, restful day, busy day, etc. To account for this, we often take trips that are a little longer, especially when traveling outside the country.
Bruising
Because of my hypermobile HATS skin, I bruise easily, and the contusions are huge. And I am far more likely to bruise when I am away from home. Major culprit: the corners/edges of unfamiliar beds. An ice roller keeps those bruises from getting worse and helps with the pain.
Altitude sickness
Having had a rough case of tachycardia when climbing a mountain, I have finally learned to leave mountain hiking to those who can handle it. Also, I drink about twice my normal amount of water when staying in areas of high altitude (the Rockies).
On a recent trip to the Blue Ridge Mountains of North Carolina, I envisioned a scenario where I wouldn't feel left out of the hiking. My family helped me settle under a striped tent, beside the Davidson River, covered in sunscreen and slathered in bug spray. I had everything I needed, including a lovely scene. Cane in hand, I looked for rocks, while watching dogs dawdle, fisherman fish, children chill with minnows, birds bounce, and snakes slither. Miniature blue butterflies swarmed nearby. It was idyllic.
Motion sickness
I often experienced motion sickness during vacations as a child. Unfortunately, I never "grew out of it." Buses are the worst...my 1st memory in Yokosuka, Japan, included escaping one and becoming sick beside a nearby shrub.
Sitting in the front seat, motion sickness meds before leaving, SeaBands™️, and avoiding turning backward when kids yell, "Mom, look at this!" are my go-to tools & techniques. If those all fail, ondansetron is my next-step to stop the nausea.
Vibratory urticaria
Being in the car for a lengthy period of time is a given for many vacations—a predictable source of vibration. Other unexpected sources could be a power station or substation nearby the place where one is staying. Since it can be hard to avoid, the key is recognizing it and being prepared for unexpected hives.
Migraines
Avoiding triggers is harder while traveling. For me, waking up to sun streaming in my eyes, light strobing through a ceiling fan, dappled sunlight through trees, reading while in motion, and lowering barometric pressure from storms can all cause migraines. While caffeine is beneficial for my migraines, it's a "no-go" for my polycystic kidney disease. So prevention is my go-to.
Sinus infection
During the first swim or two of the season, I inevitably end up with a sinus infection. So if I am swimming off season (something common for swimming in indoor pools during a vacation), I have all of my favorite meds available, just in case—guaifenesin & Afrin™️. And don't forget…
"sinus infections + flying,
do not happy bedfellows make"
Constipation
When you're flying, there's a tendency to avoid drinking too much, so you won't need to head to the restroom. Ignore that urge! (Don't ask me how I know this.) Get up and walk, even if it disturbs other passengers. Drink water, not sodas, which act as diuretics.
Insect bites
Prevention is key, so bug spray ✔️& avoidance of perfumes. But if that doesn't work, have Benadryl™️, Epi-Pen™️, & hydrocortisone cream ready to manage the hives. In a pinch, apply the leaves of a plantain plant (common in the US, though unrelated to that delicious green/brown plantain "bananas" used in South American cooking).
Sunburn or even sun poisoning
My first case of sun poisoning happened during my first trip to Florida. With my fair skin, I was very familiar with sunburns, but this stepped it up a few notches. I've become comfortable with swimming in swimming shirts and rash guards. I leave one or more wide-brimmed hats in the car to protect me on even short jaunts. When kayaking, I'm careful to cover my legs, which would otherwise be fully exposed to sun.
Aloe, Burt's Bees After Sun Soother™️, and an ice roller help out, if all the afore-mentioned tips didn't cover all the bases. I needed them during a trip to the Outer Banks, when I burned the top of a single foot, which became exposed as the earth moved though the rest of me was covered under an umbrella during lunch.
A couple surgeries for skin cancer have taught me what's what, so I don't compromise.
Foot issues
During a trip to Tokyo, my foot started spasming in the airport—a real challenge, because we were walking everywhere on that trip. Thankfully, our hotel's spa had a reflexologist on staff. It took him over an hour, but he got my feet back in order, which truly saved the day for our tourism.
After 10 years of trying a range of different techniques & tools, a new podiatrist determined that I had heel spurs, my feet supinate, and I have an irregular gait. Proper shoe choice is critical, with orthotics added. New Balance™️ taught me lacing technique, as well.
Despite all that, my feet threw me a new curve in St. Louis: ganglion cysts. Mine were on the top of my feet, which made tennis shoes intolerable. Ice + a change of shoes saved the day.
---
This may sound like a lot. But we learned this a long time ago: Our genetics don't align with packing light. (The c-pap, meds/first aid bag, and Flexi-Touch for lipedema add 3 suitcases.)
And the benefits of travel are spectacular--well worth the extra planning!
_______________
The contents of Tryptasemia.com, Tryptasemia.org, and Valutivity.com, such as text, graphics, images, and other material contained on the sites ("Content") are for informational purposes only. The Content is not intended to be a substitute for professional medical advice, diagnosis, or treatment. Always seek the advice of your physician or other qualified health provider with any questions you may have regarding a medical condition. Never disregard professional medical advice or delay in seeking it because of something you have read on this site.
If you think you may have a medical emergency, call your doctor or 911 / 999 / your local emergency #, immediately. These sites' Content do not recommend or endorse any specific tests, physicians, products, procedures, opinions, or other information that may be mentioned on the site. Reliance on any Content provided by the sites' employees, others appearing on the sites at the invitation of Tryptasemia.com/Tryptasemia.org, or other visitors to the Site is solely at your own risk.
Photos on the site are © Valutivity LLC, unless otherwise noted.