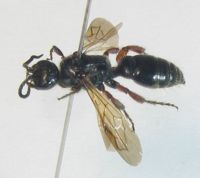 This article was written in 2010, 8 years before I was confirmed genetically to have Hereditary Alplha Tryptasemia Syndrome. It was written as a business article, but it details the challenges I experienced before understanding the nature of my illness and how it impacted daily life.

A day before leaving for Albuquerque to present at OBTC, I had the last-minute opportunity to spend a morning with my son at his elementary school. After an awards ceremony, we all went outside with the kids to play games. As I watched them play, I spoke to another parent, a pastor of a local church.
He was detailing some church models and ministries he had observed recently, when I felt a painful sensation.
"I think something stung me," I interrupted, pressing my palm into the top of my thigh, covered by blue jeans.
I truly wanted to stay focused, because his story was interesting. But I felt another sting and could sense a wiggling sensation.
"This fella is big," I thought, as I could feel it moving around.
I interrupted again, "I am so sorry, something is stinging me and I believe I have caught it. But I'd love to chat more about this later."
Seeing his questioning face but having no time to explain further, I trotted off to a bathroom with an awkward gait, pinching the insect in the folds of my jeans. In the restroom, I peeled my jeans down carefully with one hand, and flipped it into the toilet. It was a wasp.
You know, I don't think that wasp intended to sting me at all. It was trying desperately to get out of a tight space.
It just stung me 14 times in the process.
I received no apologies, just pain. But trust me—given that I flushed it down the toilet—the wasp got the worst end of the deal.
Do you know someone who was in a tight space, and the only way he could get out was to hurt you? He didn't intend it to be personal. In my case, that wasp didn't know me well enough for it to be personal!
That night, I was not in as much pain as I had envisioned. Perhaps the school nurse's ministrations had worked their magic. I left for a conference the following morning, having nearly forgotten the incident.
Jump forward to the following evening. To add insult to injury, I had lost a bit of sleep, and as I lay in bed begging for slumber, the real pain began. The leg throbbed and itched, red and swollen, and I remembered the incident afresh: as we all know, some wounds have delayed reactions.
Is there anyone in your life whom you know you have hurt but really did not mean to do so? You have the EQ (emotional intelligence) to empathize with that person and how they must have felt, yet you shrugged off the need to explain. Have you thought about circling back to that person and apologizing?
Or, let's take that up a notch. As a leader, have you considered whether the unrealistic expectations you are setting have been stressing out all the members of your team? Those expectations may not even align with your personal values. What will you do about that?
In 2006, while hundreds of us were implementing America's largest software implementation that year, a leader did something that hurt me. Struck by the dissonance of her action against the body of experiences we had shared, it subtly changed my perceptions about and respect for her. However, months later, waiting for an elevator, she did something that reframed our interactions – she apologized.
"Remember how I acted when…," she asked, filling in the details.
We had both been working out of town in different towns, and crisis had been layered over crisis—a complicated situation.
"I do," I responded.
"Well, I am so sorry. I didn't want to respond like I did, but I didn't feel like I had any other options. I have felt so badly about that, I just had to say something."
"Oh, goodness, no worries, I understood the position you were in."
I attempted to be gracious, even though I truly had been hurt, because I realized just how much this conversation might have cost her. It lasted just a few moments, but it helped validate that she really was the person I thought I knew.
Behold, the power of the apology. It costs nothing but a few coins from the currency of your pride. Yet it can mean a mint to the person who has been stung.
Karen Smith-Will ©2010
Did this article make you think? Have a story to share? Please click Contact Us and let me know.
The contents of Tryptasemia.com, Tryptasemia.org, and Valutivity.com, such as text, graphics, images, and other material contained on the sites ("Content") are for informational purposes only. The Content is not intended to be a substitute for professional medical advice, diagnosis, or treatment. Always seek the advice of your physician or other qualified health provider with any questions you may have regarding a medical condition. Never disregard professional medical advice or delay in seeking it because of something you have read on this site.
If you think you may have a medical emergency, call your doctor or 911 / 999 / your local emergency #, immediately. These sites' Content do not recommend or endorse any specific tests, physicians, products, procedures, opinions, or other information that may be mentioned on the site. Reliance on any Content provided by the sites' employees, others appearing on the sites at the invitation of Tryptasemia.com/Tryptasemia.org, or other visitors to the Site is solely at your own risk.
Photos on the site are © Valutivity LLC, unless otherwise noted.