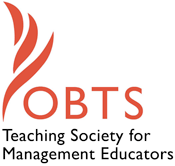 Karen developed "Generational Leadership Perspectives in a Higher Education Retreat Environment" in collaboration with Dr. Kathryn Crockett (Lubbock Christian University) and Michael Winegeart (Abilene Christian University). She and Dr. Crockett presented at the 2010 Organizational Behavior Teaching Conference at the University of New Mexico. This engaging and informative session demonstrates how a leadership retreat facilitated growth in Generation-Y leaders.
Held in January 2010 and led by experienced business professionals and university leaders, the retreat (Abilene Christian University's 10th annual Leadership Summit) was targeted to 19- to 22-year-old undergraduate students from two universities. Participants and retreat leaders completed a survey, allowing a cross-generational view of their perceptions of leadership concepts. OBTC attendees completed a mini-version of that survey and predicted their students' responses to those questions. Attendees explored the structure of the retreat, reviewed qualitative and quantitative analysis derived from the surveys, and participated in a question and answer session.
Interested in having Karen present this material for your business or organization? Click here.
Links to Presentation, Mini-Leadership Survey, Full Survey Question Inventory