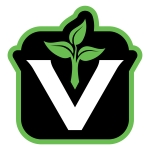 If you have been hearing about servant leadership for a while but still don't feel like you have grasped the full concept, this list can help you get started. These resources can help leaders decide whether to take the proverbial road less traveled: that oxymoronic journey to become a servant.
Articles: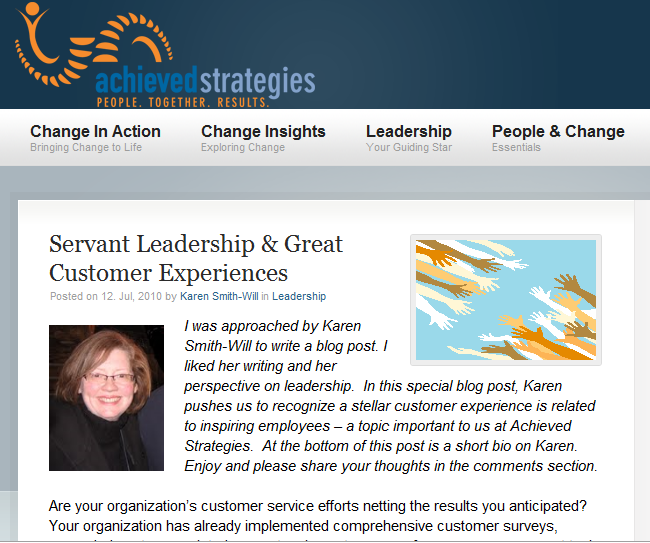 Servant Leadership: the Best-Kept Secret behind Successful Customer Experiences, by Karen Smith-Will - People sometimes still refer to dated models referring to organizations as providing products or services. But don't be confused: every organization is a service organization. I wrote this guest-blog for AchievedStrategies.com to describe how the servant leadership model can better align your organization to deliver quality services your customers deserve.
Become a Servant Leader: Do you have what it takes?, by John E. Barbuto, Jr. and Daniel W. Wheeler – The title says it all. This article includes some great questions to ask yourself, plus descriptions of a handful of the important competencies of servanthood.
World Class Courtesy: A Best Practices Report - This report emphasizes how servant leadership provides the backbone behind customer-service greats like Federal Express Corporation, Nordstrom, USAA, The Ritz-Carlton Hotel Company and the Defense Commissary Agency (DeCA). Bonus: consider the introduction as a starter kit for basic customer services that should exist in every organization.
The Cross-Cultural Leader: The Application of Servant Leadership Theory in the International Context, by Maureen Hannay If you are interested in considering whether servant leadership could be successful in your culture, take a look at this article from the Journal of International Business and Cultural Studies.
Books:
Focus on Leadership: Servant-Leadership for the 21st Century
Do not let the more scholarly approach of this compendium stop you from purchasing it. In addition to a kaleidoscope of perspectives on various dimensions of servant leadership, this book provides a powerful set of stories and character sketches that will encourage you to assess your own competencies.
Built to Serve: How to Drive the Bottom Line with People-First Practices
This work, referred to in my blog item above, is an easy-to-read book that provides clarity on how servant leadership align people with process to generate value, based on the practices of a newer crop of customer service heavy-hitters—Southwest Airlines, United Supermarkets, Medtronics and others.
The Servant: A Simple Story About the True Essence of Leadership
If you like business fiction, this short book will give you an easy-to-read overview to the main points in Servant Leadership. Additional themes: personal retreat, My favorite quote: "Humility to me is not thinking less of yourself, it's thinking about yourself less.
Website:
Greenleaf Center for Servant Leadership This organization was started by Robert Greenleaf as a consultancy to apply the principles he learned through his career at AT&T. Greenleaf also held positions at MIT's Sloan School of Management, Harvard Business School, Dartmouth College and the University of Virginia.
Tools:
I am developing a Servant Leadership Competency Assessment, which should be tested in Fall 2010. It consists of over 50 distinctive competencies associated with servant leadership. If you're interested in helping with the test or would like to comment on this bibliography, please click Contact Us and send a message. We welcome your input!