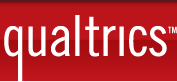 Qualtrics™ Research Suite is my survey analytics tool of choice. Check out the 8/30/2010 Qualtrics Qmunity Blog, which features some important findings from my recent Gen-Y research. While I have developed surveys with or researched a half dozen survey providers (mostly names you would recognize readily), Qualtrics is by far my favorite, and their blog article explains why.
Qualtrics is a leader in market research and enterprise feedback management. Perhaps you would recognize a few clients for which they provide services--Fortune 500 and major organizations like the American Red Cross, University of Cambridge, UCLA, Forbes, Travelocity, Nortel and Smithsonian Institution, to name a few. Lubbock Christian University is also one of their customers, and I feel blessed that I've been able to use the software as part of my graduate school research there.
See also additional Gen-Y research regarding perspective on leadership the use of retreats, presented at the Organizational Behavior Teaching Conference at the University of New Mexico.
See also Gen-Y research featured in the recent blog Leaders: Are You Ripe Yet?