As we end the month of August, I'm talking tomatoes.
Hanover County, Virginia, home of the Hanover Tomatoes, is where I have lived for years. It's also the county where Valutivity LLC is chartered.
You probably see where I'm going with this. Leaders are a little like tomatoes: we're not all "ripe" at one given time. But we are constantly striving to get closer to that ready stage at each point in our lives.
I like my tomatoes au naturel. I grew up eating them fresh off the vine, like an apple, after a quick rub on my shirt for good luck (and to clean off any slime that a snail might have left). No salt & pepper needed.
Tomatoes ripen at different rates. My mother and other Hanover friends keep me in enough tomatoes during this season for plenty of BLTs and sun-dried tomatoes. Last year, at one point I had lots in varying stages. Some were green with only a hint of red. Others could vie for the "best perfectly-ripe tomato" slot in the next Prego™ commercial. Some, ripe and water-filled, threatened to burst their skins.
But even the unripe green tomatoes make tasty fried green tomatoes, a refreshing relish or salsa verde.
How long does it take for a leader to "ripen"? How long do you have to pay your dues until you are recognized as a leader? I surveyed about a hundred attendees of a university Leadership Summit in January 2010. The majority of the target audience were Gen Y leaders from two universities (92%); the remaining 8% were leaders of the conference (Gen-X and Baby Boomers), and their responses were fascinating.
They responded to the question of how long leaders had to wait to be recognized as leaders, in terms of: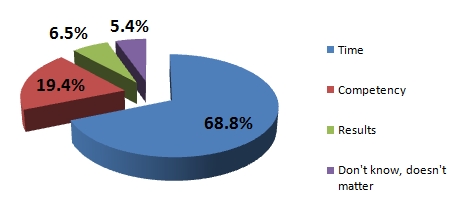 68.8% answered the question in terms of time elapsed. Many gave a range of time (it varies by context, as long as it takes, up to a lifetime or a career). Some responded that it took no time to pay dues or that it happened immediately. Some simply said "it takes time." A few others gave a particular amount of time (3 years, 8 years and 10 years were mentioned).
19.4% thought individuals had to wait until they had demonstrated a certain competency. The ones cited included trustworthiness, worthy of respect, hard work, integrity, good values, treating others well, not offending others, working hard, effectively handling duties and responsibilities of leadership, earning respect, establishing self as credible, dependability, leading respectfully, offering recognition, making decisions that impact the organization positively, handling stress and pressure well, and leading positively.
Only 6.5% thought it required delivering results. These results were demonstrated by making a difference in one's line of work, exceeding expectations, noticeable outcomes, accomplishments, doing something that demonstrates leadership and performance at a certain level.
The final group (5.4%) said they didn't know, that it doesn't matter or that it was in God's hands.
That's about as much variance as I saw in those tomatoes. That much variation must leave newly growing leaders puzzled about how to earn respect.
Here's what you may want to consider:
Examine your own beliefs about this issue. What has influenced how you feel about when to recognize someone as a leader? Are you still following what you learned decades ago, perhaps in an entirely different industry or domain? Have you unconsciously modeled your beliefs after those of your last manager--not because you agreed with him, but because it seemed like the "party line" for your division?
All leaders are impacted by these varied perceptions. Talk about this topic with your direct reports, peers or your boss. What you hear might surprise you.
Every time there is an organizational change, don't make assumptions…your new boss may not yet be ready to grant the same level of responsibility if she has a different standard of leadership "ripeness" than your past manager. When in doubt, ask.
Learn to appreciate--and monitor--the range of different ripeness that exists in your organizational leadership. Don't underestimate those green tomatoes or the ones that are just half-ripe. There are key roles they can play in your organization exactly as they are. Watered and fed appropriately—with plenty of chances to explore their various stages—they will be ripe before you know it.
And as a final word, never underestimate the power of "granting positive intent." Under the skin, where it really matters, the leaders with whom you work may have the same people-centered ideals you do.
.
To see additional research published from this Leadership Summit, see this article about Gen-Y perspectives of leadership presented at the Organizational Behavior Teaching Conference at the University of New Mexico in June 2010.
Photos ©2009 Karen Smith-Will